CONTEMPORARY
DESIGN AND
IMPRESSIVE
HEAT OUTPUT

The Focus 320 burns with a unique flame that is utterly mesmerizing and the contemporary style door offers the largest viewing space possible. The Focus 320 produces enough heat for the average house, burns overnight, and has low emissions. In addition, the RSF Central Heating Options are compatible, which allows the heat to be spread uniformly throughout the home.
This fireplace is certified for use with 7″ ICC Model EXCEL chimney only.
Large 2.6 cubic foot firebox.
EPA 2015 certified at an emission rate of 4.5gr/hours
Molded firebrick lining.
Mobile home approved.
Takes 22" logs.
Can be installed into a masonry chimney using an RSF adapter and a UL/ULC listed stainless steel chimney liner.
Can be connected to a central heating system.
THE RSF COMFORT ADVANTAGE
Comfort is our specialty. We customize heat distribution from a wood fireplace throughout the home, including the basement. When the household temperature is tailored for a family at minimal cost and maximum efficiency, we call that the RSF Comfort Advantage.
Note: the central heating option is not available for the Pearl 3600, the Focus 3600 or Focus ST.
Focus 320 – Contemporary design and impressive heat output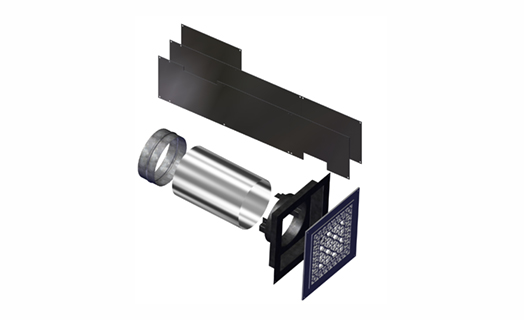 Clean Face FO-F2 + FO-V2
The Clean Face Kit is required on all complete clean-face installations. It consists of blocking plates that cover the grill openings and an air intake duct that brings air circulating in the home into the fireplace. Gravity vents are required with this option.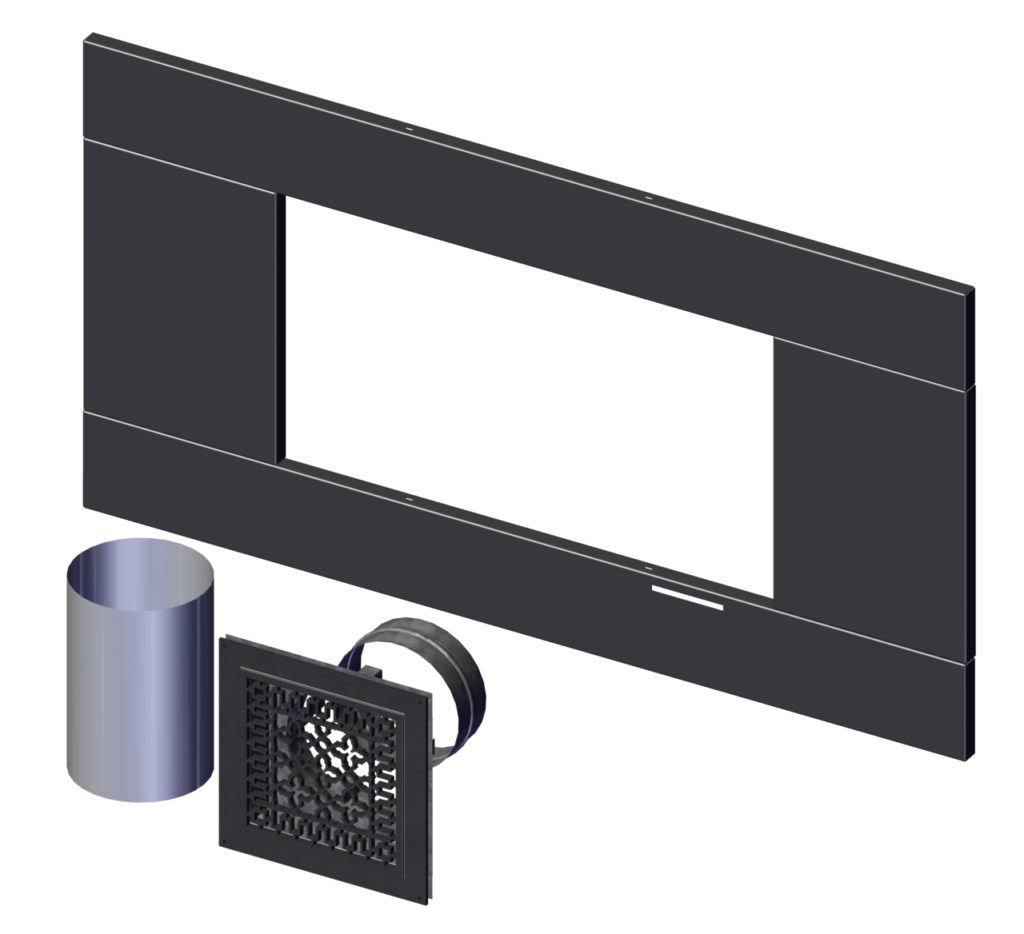 Focus 320 Decorative Surround 60"
The Decorative Surround is an option that can be mounted to the facing of the Focus 320 Fireplace to offer a stylish, linear look.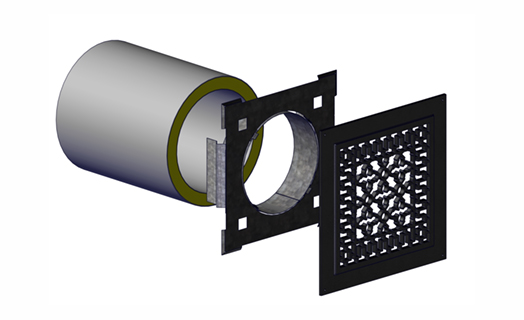 Gravity Vent Kit
The gravity vent kit uses natural convection to distribute the heat generated by the fireplace to the same floor and/or floors above the fireplace.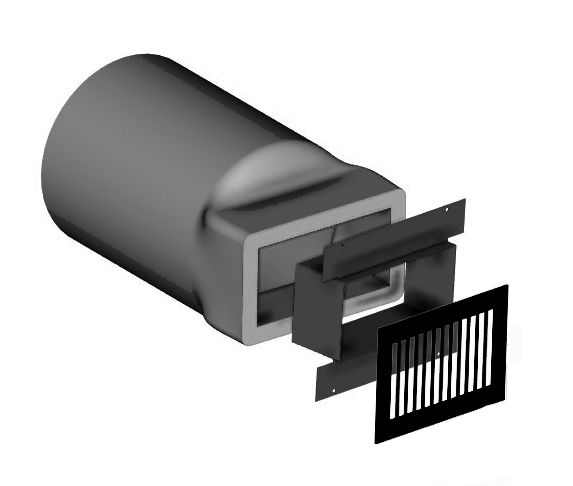 Gravity Vent Kit – Rectangular
The gravity vent kit uses natural convection to distribute the heat generated by the fireplace to the same floor and/or floors above the fireplace.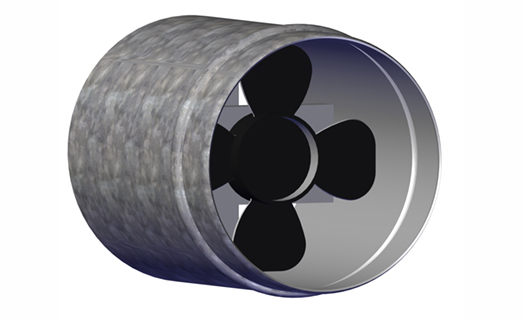 Inline Fan
Where additional air flow and heat output are desired, the Inline Fan is to be used in combination with the Intake Duct option (FO-CID, when available) or the Clean Face option (when available).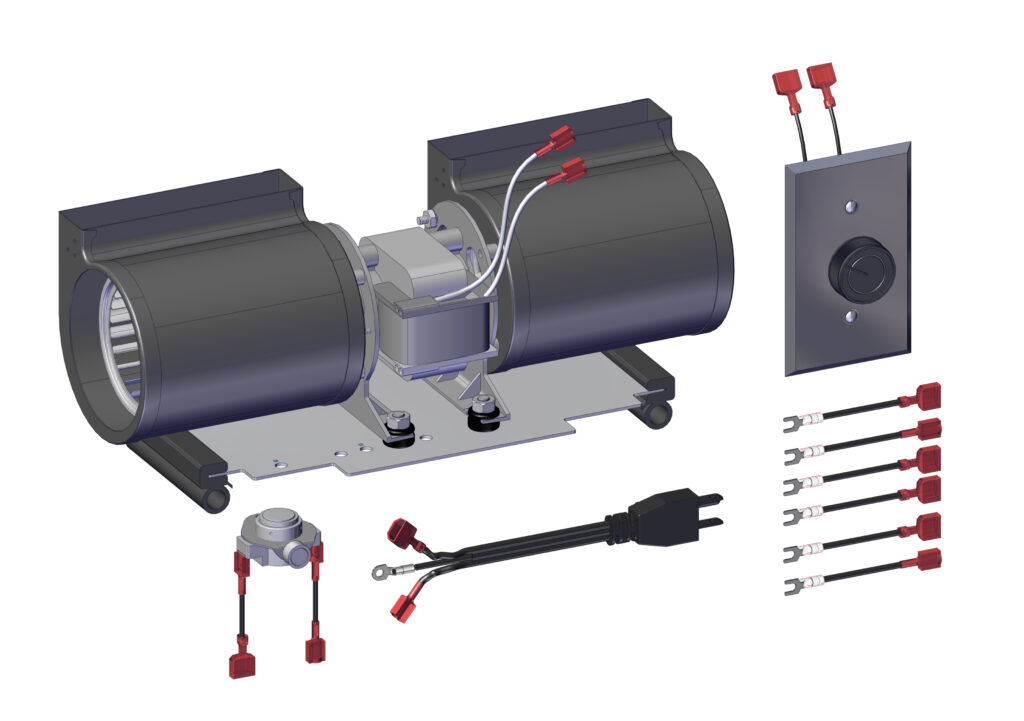 Internal Blower
The internal blower kit will increase the circulation of heated air in the room where the fireplace is installed.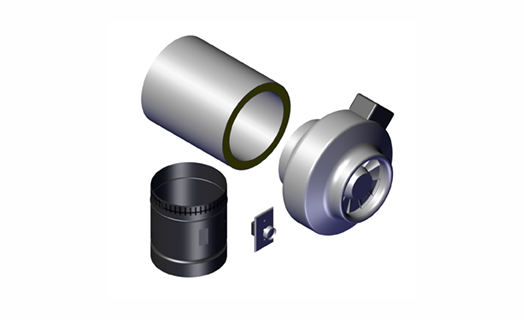 Central Heat Blower Kit
The central heat blower kit enables the distribution of heat generated by the fireplace throughout many rooms and different floors using either dedicated ducts or the house central heating ducts.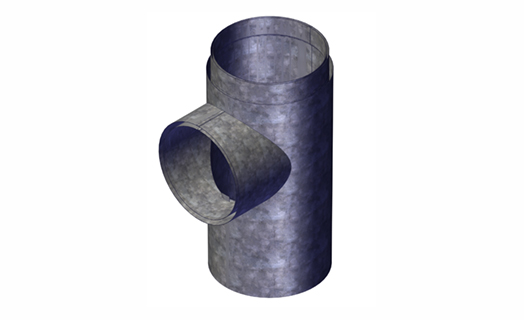 Central Heating Tee
This Tee allows you to have two Gravity Vents (FO-V2) on your fireplace and still be able to install the Central Heat option (FO-FDHB6-1).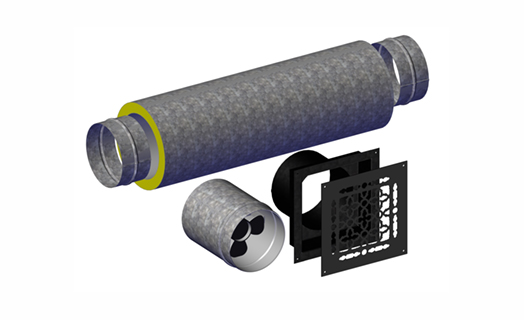 Heat Dump
The Heat Dump Kit contains all the parts necessary to circulate a moderate amount of heat from your fireplace to another room with a small fan.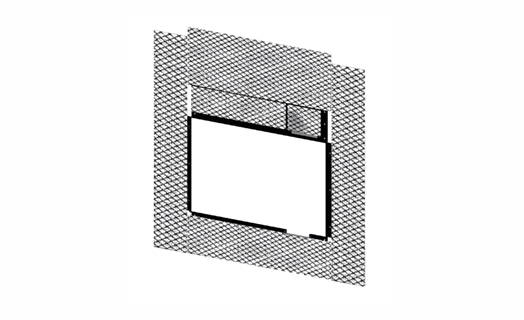 Rock Retainer Kit (Focus 320)
This rock retainer kit will allow you to finish your Focus320 fireplace with thin non-supporting facing such as tiles.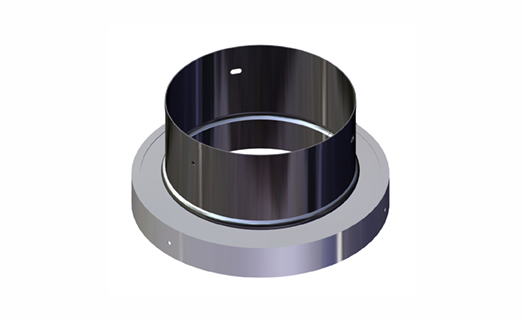 Masonry Chimney Adapter
This adapter will attach to the liner with 3 stainless steel rivets (provided) and to the EXCEL chimney with 3 screws (provided).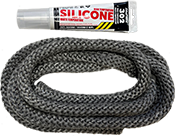 Door Gasket Replacement Kit 3/4''
This kit (FO-GRK4) includes the gasket and high temperature sealant required to change the door gasket on your fireplace.
view heat distribution options
Note: The installation manual should always be used for the precise planning and accurate installation of your fireplace.
GENERAL SPECIFICATIONS
Outside Dimensions
45″ W X 44 1/4″ H X 24″ D
Shipping weight
562 lb
Glass viewing size
24 ¼" W x 13 ¼" H
Firebox Size
2.6 cubic feet

Based on overall firebox dimensions, EPA official firebox dimensions are smaller.

Firewood Length
22″
Chimney
7″ Excel
Door Finish
Black
Outside Air
4″, meets R2000

All RSF models come equipped to accept a 4″ outside air duct, a 5″ can also be used. All models can also be installed to operate using room air.

Mobile Home Approved
YES
BTU Output Maximum
50,000 BTU/hr

Based on engineering calculations using firebox volume, efficiency, loading density (12lb/cu ft for hardwood), average humidity, reloading interval, type of installation, etc.

Heating Capacity
1,000 to 2,000 ft2

Depends primarily on wood quality, ambient air temperature and building heat loss.

EPA Certification
The Focus 320 is available in Canada only and is certified to Step 1 of EPA 2015 at a rate of 4.5 grams/hour.
Optimal Efficiency
77%

Low Heating Value (LHV), using data generated under the best circumstances and CSA B415.1-10 calculations.